Our Menu is On-Site for Your Perusal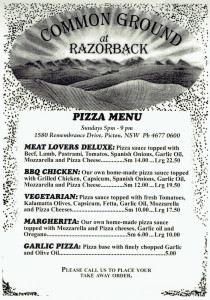 We've added our Pizza Menu to our site now, so you can look it up before you come. We do pizzas on Sunday nights – 5pm through 9pm. We also do a "special," which is different every week. We also continue to serve our full regular menu all day Sunday through 9pm. Looking forward to seeing you there!
Your friends at the Common Ground
P.S. Just in case you didn't notice, we also added our Menu to our site for you to look at. It's especially good if you're looking forward to booking for a special occasion!